Top 20 *
46.69%
* updated 10/07/17
Inca Minerals Managing Director, Mr Ross Brown said "It is very exciting now to be drilling at Riqueza. Since April 2016, when we announced the acquisition of Riqueza, we have discovered over 100 new occurrences of Zn-Ag-Pb mineralisation at Riqueza, including new structures, numerous veins, mantos and breccias. Essentially we have changed Riqueza from a small project into a large project and in the meantime obtained a 14,000m drill permit."
"… over 100 new occurrences of Zn-Ag-Pb mineralisation at Riqueza."
There are now four highly prospective areas at Riqueza, the Humaspunco Prospect ("Humaspunco"), the Humaspunco South Prospect ("Humaspunco South"), the Pinta Prospect (or "Pinta") and the Uchpanga Prospect (or "Uchpanga"). These prospects were the focus of small scale mining last century and host significant concentrations of strong Zn-Ag-Pb mineralisation. Results of several phases of surface mapping and sampling has established the bona fides of these areas. Inca has collated this data and has recognised the very high potential of these prospects and areas surrounding them.
Humaspunco is the largest prospect at Riqueza. Extending over an approximate area of 1,200m x 800m, it hosts innumerable minerals veins, mantos and breccias. Pinta and Humaspunco South satellite Humaspunco. Pinta hosts the same types of Zn-Ag-Pb bearing veins and mantos as at Humaspunco and is likely to be an eastern extension. Humaspunco South is a newly described prospect that hosts Zn-Ag-Pb bearing manto mineralisation that is open-ended to the south. Uchpanga, some 2.5km south of Humaspunco, host a 750m gossan containing Zn-Ag-Pb-Au mineralisation.
The Humaspunco Prospect largely corresponds to a large hill bearing the same name. Pinta is just off frame to the right and Humaspunco South is in the foreground, roughly corresponding to where the track is. Humaspunco Hill is shaped like a wedge in cross-section, shallow side facing south, steep side facing north.
It is believed that the greater Humaspunco area (Humaspunco, Pinta and Humaspunco South) hosts a replacement Zn-Ag-Pb deposit and Uchpanga a hydrothermal Zn-Ag-Pb-Au vein (or dyke) deposit. Both are believed genetically and possibly spatially associated and to be part of the same large intrusive-replacement mineralised system.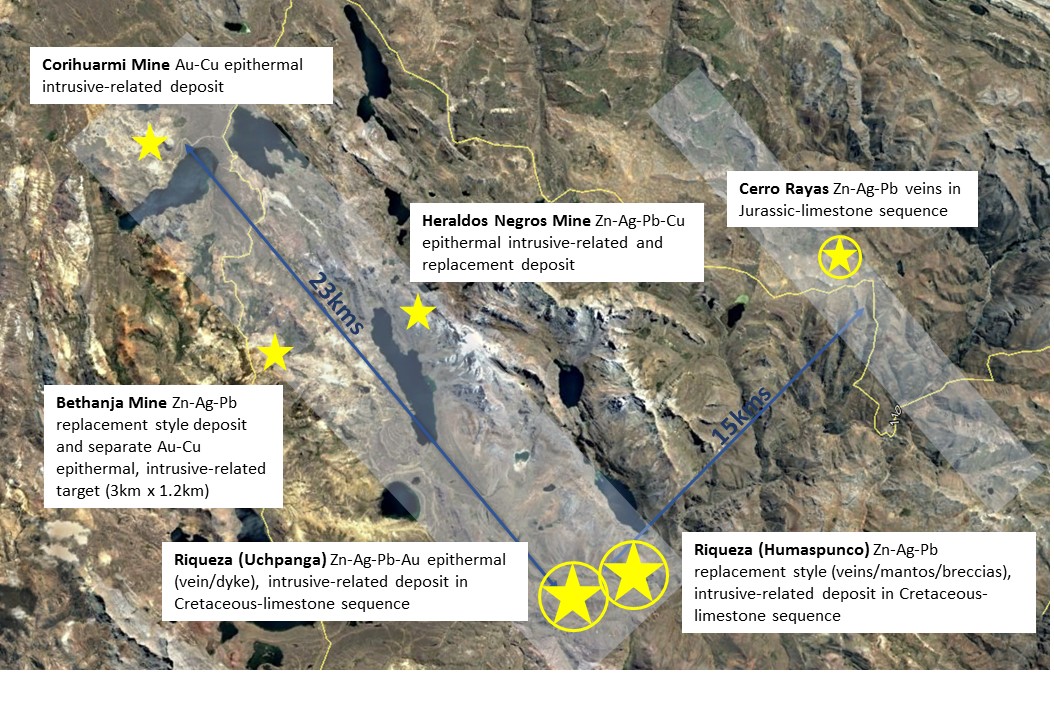 There are three mines within 25km of Riqueza that are intrusive-replacement deposits, Corihuarmi, Bethanja and Heraldos Negros. This supports the possibility that Riqueza is an intrusive-replacement deposit. These mines, including Riqueza, are aligned in a NW-SE mineral belt, a further strong indication that the deposits have similar provenance.
Inca's exploration focus is on the discovery and delineation of economically important high grade Zn-Ag-Pb deposits in Peru?with special emphasis on Zn. The Riqueza Project , as well as the Cerro Rayas Project, both contain high grade Zn-Ag-Pb mineralisation and have substantial upside potential.
It is the intention of Inca to develop its Riqueza Project (and other Zn projects it has and may acquire) using best practice exploration methods with the "end-game" of defining an economic resource and commencing exploitation. With respect to Riqueza, we believe an Exploration Target (JORC 2012 Chapter 17-19) can be achieved with phase 1 drilling. We also believe a mineral resource (JORC 2012) can be achieved within a 2 to 5 year time frame.
"Multiple high grade veins and mantos that stick out of the ground, both in the figurative and literal sense, are a far cry from mineralisation reachable with 1,000m deep holes" Mr Brown says reflecting on the exploration demands of Chanape. "Whilst resource building was difficult at Chanape, we feel the same will not be true at Riqueza."
The company continues to strive for exploration excellence and to maximise shareholder value through discovery and development. "We will not shirk from difficult decisions, nor take for granted shareholder support. We adhere to foundation best practise principles in exploration, social and environment management."
"We've had two +10-baggers since operating in Peru" says Mr Brown. "The first came about after DDH-001 at Chanape, drilling into a porphyry for the first time. The second came about through sustained success as Riqueza?more and more occurrences of strong mineralisation. Now drilling starts again!"